Road trip en Florida, Daytona, A1A y San Agustin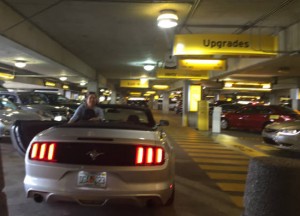 Road trip de Daytona a San Agustin: Audio del programa Imágenes del Turismo del sábado 20 de junio de 2015 en Imagen 90.5 FM
Road trip from Daytona and Saint Augustine: Audio of the program Imágenes del Turismo from June 20 2015 in Imagen 90.5 Fm nation wide radio.
En esta ocasión visitamos Orlando y rentamos un auto para recorrer la  carretera panorámica A1A de Daytona a San Agustin. Algunos de los puntos principales que visitamos fueron el faro Ponce Inlet, el parque Marineland, el faro San Agustin, el Parque Arqueológico Fuente de la Juventud Ponce de León. Hertz nos dio una maravilloso upgrade y pudimos disfrutar de la carretera panorámica en un Mustang convertible.
In this occasion we rented a car in Orlando drove to Daytona and took A1A panoramic road to St. Augustine. Some of the highlight of the trip were the visits to Ponce Inlet Lighthouse, Marineland, St. Augustine Lighthouse, Ponce de Leon's Fountain of Youth Archaeological Park and ended up having diner at Columbia Spanish Restaurant. Hertz gave us an upgrade and we enjoy the road in a roofless Mustang perfecto for a panoramic road.
ESCUCHA EL PROGRAMA DE RADIO/ LISTEN TO THE RADIO PROGRAM: Road trip de Orlando a San Agustín. 20.06.2015
 Galería fotográfica: